WINTER JACKETS
Comfortable designs. High-quality materials. Functional features.
INSPIRED BY THE RELIABLE GEAR OF CARGO PILOTS
PME Legend winter jackets draw inspiration from classic flight jackets. Originally crafted for pilots, these jackets were essential in retaining body heat and ensuring comfort during extended flights. Whether they are flying in high altitudes or loading heavy cargo, cargo pilots must be able to rely on their gear. To provide utmost comfort and practicality, we've integrated functional details from these authentic flight jackets into our new outerwear.
Discover the new winter jackets from PME Legend. We've grouped them by weather condition, with a highlighted recommendation for each, so you can easily find the perfect jacket for your circumstances and preferences.
Shop all jackets
PROTECTED IN WET WEATHER CONDITIONS
Just like a cargo pilot, you need gear that protects you. Our collection features both water-repellent and waterproof jackets to meet different needs. Ideal for light, mild showers, water-repellent jackets ensure that water slides off, keeping you dry in such conditions. On the other hand, severe, prolonged rainstorms call for a waterproof jacket with taped seams to prevent any rain from soaking through the fabric.
The PME Legend Snowpack Icon parka was inspired by an authentic B-9 parka originally designed for pilots flying to extremely cold regions. The taped seams make it waterproof, ensuring maximum protection against inclement weather. The detachable imitation fur liner provides extra comfort.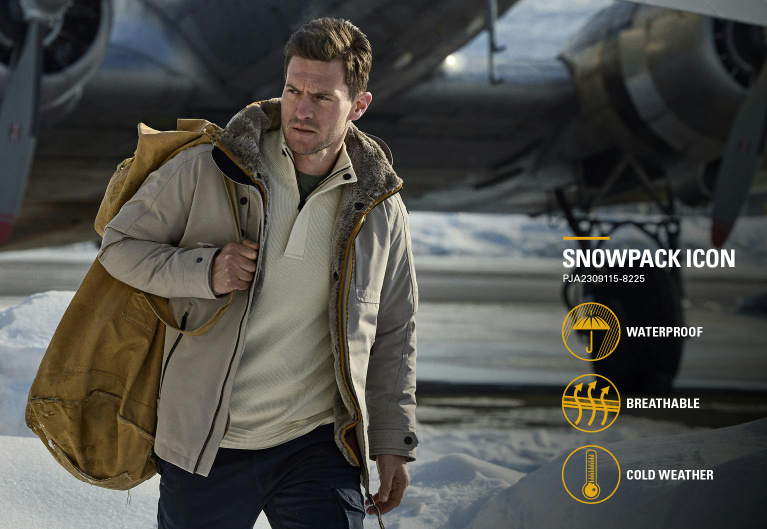 WATER-REPELLENT JACKETS
A comfortable, water-repellent jacket is a must in any wardrobe. Discover the extensive range. Which model appeals to you?
Shop now
PERFECT FOR IN-BETWEEN WEATHER
Facing the unpredictability of milder winter days, where it's not too cold or too wet, requires a versatile jacket. Perfect for those in-between conditions, they offer an optimal balance of warmth, comfort, and functional properties. They are, for instance, water repellent, so you'll be well prepared and protected when you're unexpectedly caught in light rain.
The PME Legend Skytruck is filled with lightweight Tech Down, making it very comfortable to wear. The water-repellent jacket features a detachable hood and a separate inner front closure for added comfort and functionality.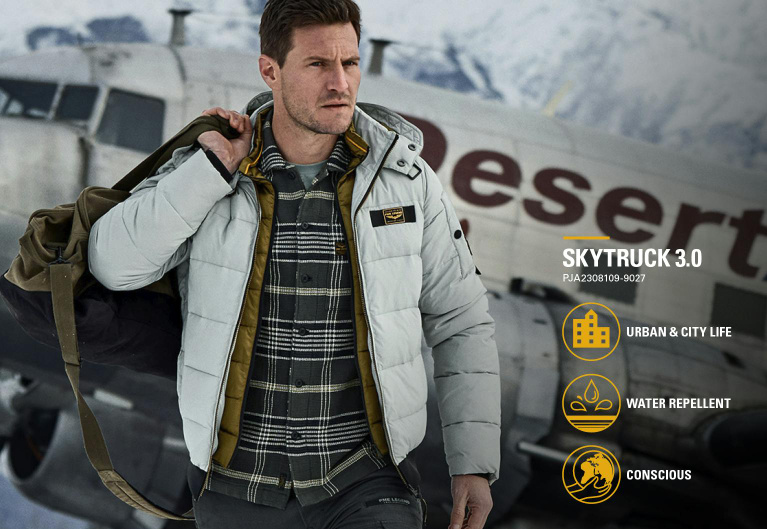 VERSATILE JACKETS
Discover jackets for those transitional weather periods when it's neither extremely cold nor heavily raining. Perfect for everyday wear, no matter your plans.
Shop now
OPTIMIZED FOR COLD WEATHER COMFORT
Merging tradition with innovation, PME Legend winter jackets ensure you're optimally equipped for even the coldest days. They are made of high-quality materials paired with authentic, functional features. The Tech Down filling, lightweight and airy, locks in warmth and keeps the cold out. Combined with their windproof design, these jackets offer both comfort and reliable protection.
The PME Legend Ice Pilot Icon is based on parkas originally developed in the early 1950s in the USA for aircrews stationed in extremely cold areas. In addition to the Tech Down filling, the hood lined with imitation fur and the soft, elasticated cuffs add extra warmth and comfort.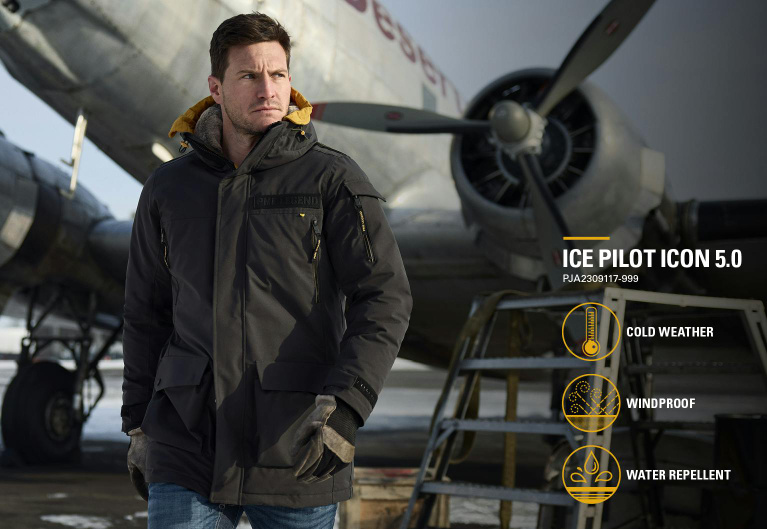 WARM AND WINDPROOF JACKETS
When temperatures drop, PME Legend winter jackets rise to the occasion. Explore warm and comfortable must-haves and choose your favorite.
Shop now
AUTHENTIC LEATHER JACKETS
In the early 20th century, most cargo planes did not have heaters in the cockpit, so pilots had to wear clothing that kept them warm. Leather flight jackets were constructed to keep the cold out and provide comfort and safety at high altitudes. PME Legend leather jackets are based on these original designs. Using only premium leather, our jackets are built to last and only get better looking with time and wear.
The Hudson flight jacket was inspired by a true American classic: the B-3 flight jacket. It's made of supple buffalo leather saturated with oil for all-weather protection. The detachable collar with sheep fur and the signature badges provide the PME Legend look.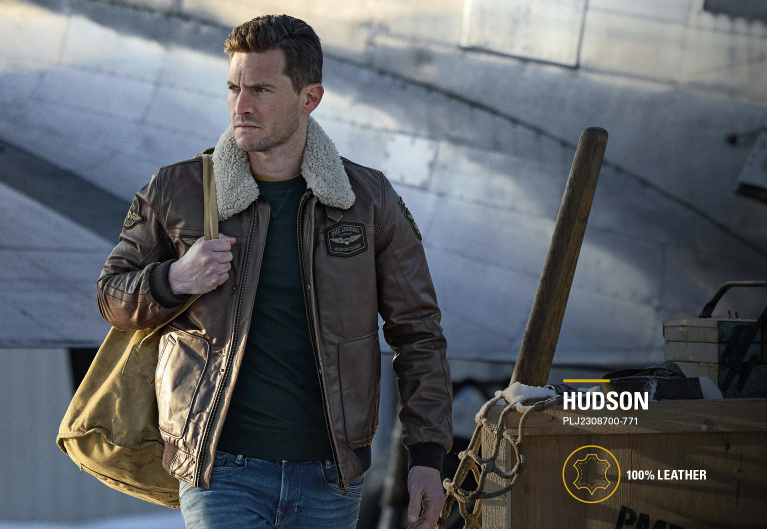 LEATHER JACKETS
Our classic leather jackets are sturdy, long-lasting, and a true reflection of the PME Legend heritage. Explore the selection.
Discover all jackets