WINTER JACKETS
Comfortable designs. High-quality materials. Functional features.
INSPIRED BY THE RELIABLE GEAR OF CARGO PILOTS
PME Legend winter jackets are inspired by classic flight jackets. These jackets were designed from scratch for pilots to convert body heat and ensure comfort during long flights. In the life of the cargo pilot, rugged but comfortable clothing is indispensable. Whether they are flying in cold altitudes or loading heavy cargo, they must be able to rely on their gear. Functional details of these authentic flight jackets have been incorporated in our comfortable winter jackets.
PROTECTION IN WET WEATHER CONDITIONS
Which jacket is perfect for you depends on your preferences and circumstances. Just like a cargo pilot, you need gear that protects you. We distinguish water-repellent and waterproof jackets. Water-repellent jackets are perfect for light, mild showers. The water slides off the jacket, so you will stay dry in these conditions. Severe rainstorms that last a long time require a waterproof jacket that the rain won't soak through. To make them truly waterproof, the seams of our jackets are taped. It is also important that a jacket is breathable. If water vapor can't escape, you'll end up wet from the inside and you'll still get cold.

Discover the Consel Hawk Icon jacket. This jacket is both water repellent and waterproof, so you can be sure to stay warm and dry in all wet weather conditions.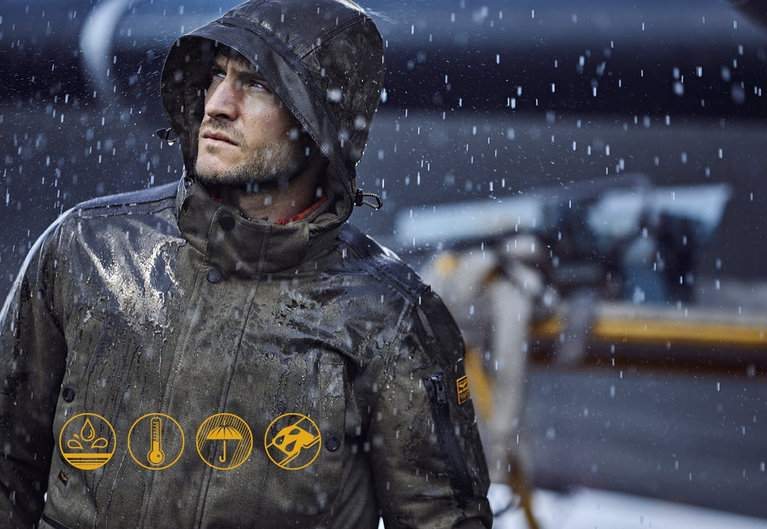 JACKETS FOR ALL WEATHER CONDITIONS
If you want to be perfectly prepared for whatever comes your way, jackets that you can adjust to the weather conditions are an ideal choice. The Consel Hawk Icon, for example, is a multi-purpose 3-in-1 jacket. It is based on an authentic B-9 parka, which was specifically designed for pilots flying to extremely cold areas. The Consel Hawk Icon consists of a water-repellent outer jacket and a quilted inner jacket. These layers can be worn together or separately. An all-seasons jacket, like the Skycontrol Icon, can be worn year-round. The Skycontrol Icon, the ultimate jacket for people on the go, is filled with comfortable, lightweight Tech Down.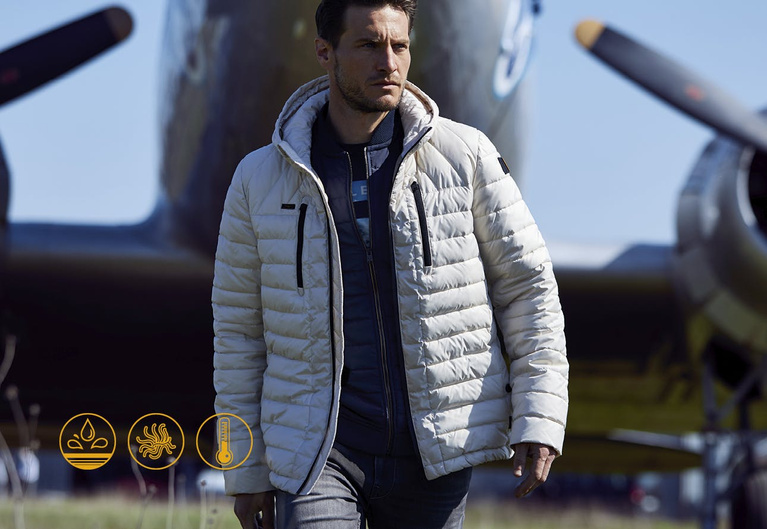 THE LINING OF A JACKET
The lining plays a big role in the warmth a jacket provides. Linings can be made of all sorts of materials. At PME Legend, we work, among other materials, with recycled polyester. This material is not only sustainable, but also offers many other advantages. Polyester does not wrinkle, does not wear out quickly and retains its shape. The color also lasts a long time. Although polyester is a sturdy material, it is very lightweight. The PME Legend Iciclair jacket is the ultimate jacket for cold weather conditions. This water-repellent jacket is lined with 80% recycled polyester, making it very comfortable to wear. Our jackets filled with Tech Down are also must-haves in winter. Tech Down is very comfortable, lightweight and airy. It retains warmth and has very good insulating properties.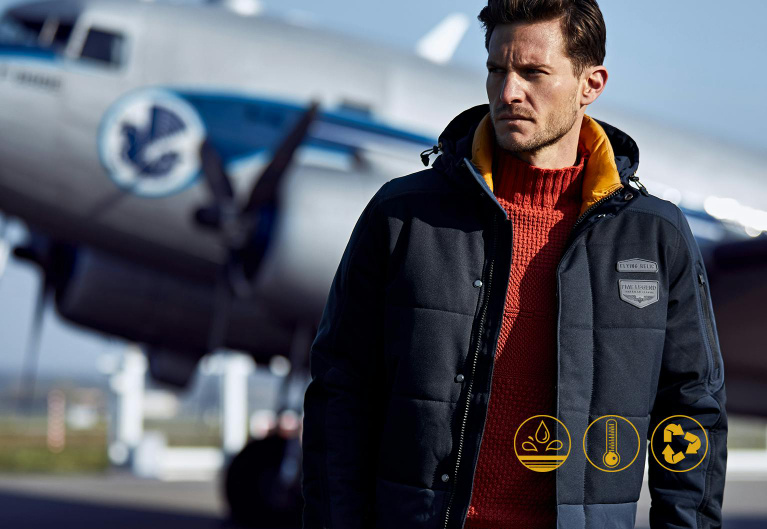 AUTHENTIC LEATHER JACKETS
The leather jackets from PME Legend are must-haves in winter. In the early 20th century, most cargo planes did not have heaters in the cockpit, so pilots had to wear clothing that kept them warm. The authentic leather flight jackets were designed to keep out the cold and provide comfort and safety at high altitude. The rugged leather provided warmth in sub-zero temperatures, while the special oil finish protected the cargo pilot from rain and wind. Leather jackets are sturdy, long-lasting and only get better looking with time and wear. Discover for example the authentic PME Legend Hudson Flight Jacket: a true 'American Classic'.